Beyond Calvary Cemetery: A Queens Cemetery Cycling Tour
Spend a day pedaling your rental bike through New York City's largest borough and it probably won't take long before you to pass your first cemetery. Then your second. Then your third.
You get the picture.
The reason Queens has been graced with the dubious responsibility of housing millions of the Big Apple's deceased has everything to do with its size. You see, back in the mid 19th century when Manhattan was in the midst of an (forgive the oxymoron) existential corpse crisis, the state of New York passed what was known as the Rural Cemetery Act. For the first time, the laying to rest of human remains became a commercial enterprise and peripheral areas with lots of available land were quick to cash in on the opportunity.
Fast forward a couple centuries and the borough is now home to nearly 30 necropoli, with an interred population that more than doubles that of the living. Needless to say, we here at Spinlister thought this interesting piece of New York history merited its own unique bike tour.
Take a minute to check out our Queens Cemetery bike map below, and get to know a little bit about some of the more intriguing burial grounds we've added to the tour.
CALVARY CEMETERY
It took just over a year between the April 1847 passage of the Rural Cemetery Act and the August 1848 consecration of the Calvary Cemetery. Now that's efficiency. Divided into multiple sections, there are over 3 million bodies laid to rest here, ranging from respected athletes and artists like pitcher "Smiling Mickey" Welch and composer Joseph E. Howard to notorious mobsters like Irishman Mickey Spillane and Italian crime boss Giuseppe Morello. Calvary Cemetery is owned by the Catholic Archdiocese, with a centuries-old chapel located in its oldest division.
Cemetery website
MOUNT ZION CEMETERY
Occupying an area of just under 80 acres, Mount Zion Cemetery saw its first burial in the spring of 1893. Since then, thousands of New York City's Jewish residents have been interred here, including lyricist Lorenz Hart and divisively complex author Nathanael West.  Among its more moving cenotaphs is the Triangle Shirtwaist Factory Memorial, dedicated to the 146 young Jewish and Italian immigrants who perished in the tragic Shirtwaist Factory Fire of 1911.
Cemetery website
MOUNT OLIVET CEMETERY
The incorporation of the non-sectarian Mount Olivet Cemetery dates back to 1850, making this scenic 71-acre burial ground one of the oldest in Queens. Although its interments don't enjoy the same name recognition as some of its more prestigious neighbors, the natural beauty and 165-ft vantage point over Manhattan make Mount Olivet an off-the-beaten-path favorite for city residents and casual urban explorers. On a more historic note, there are also 25 Civil War veterans buried within its grounds.
Cemetery website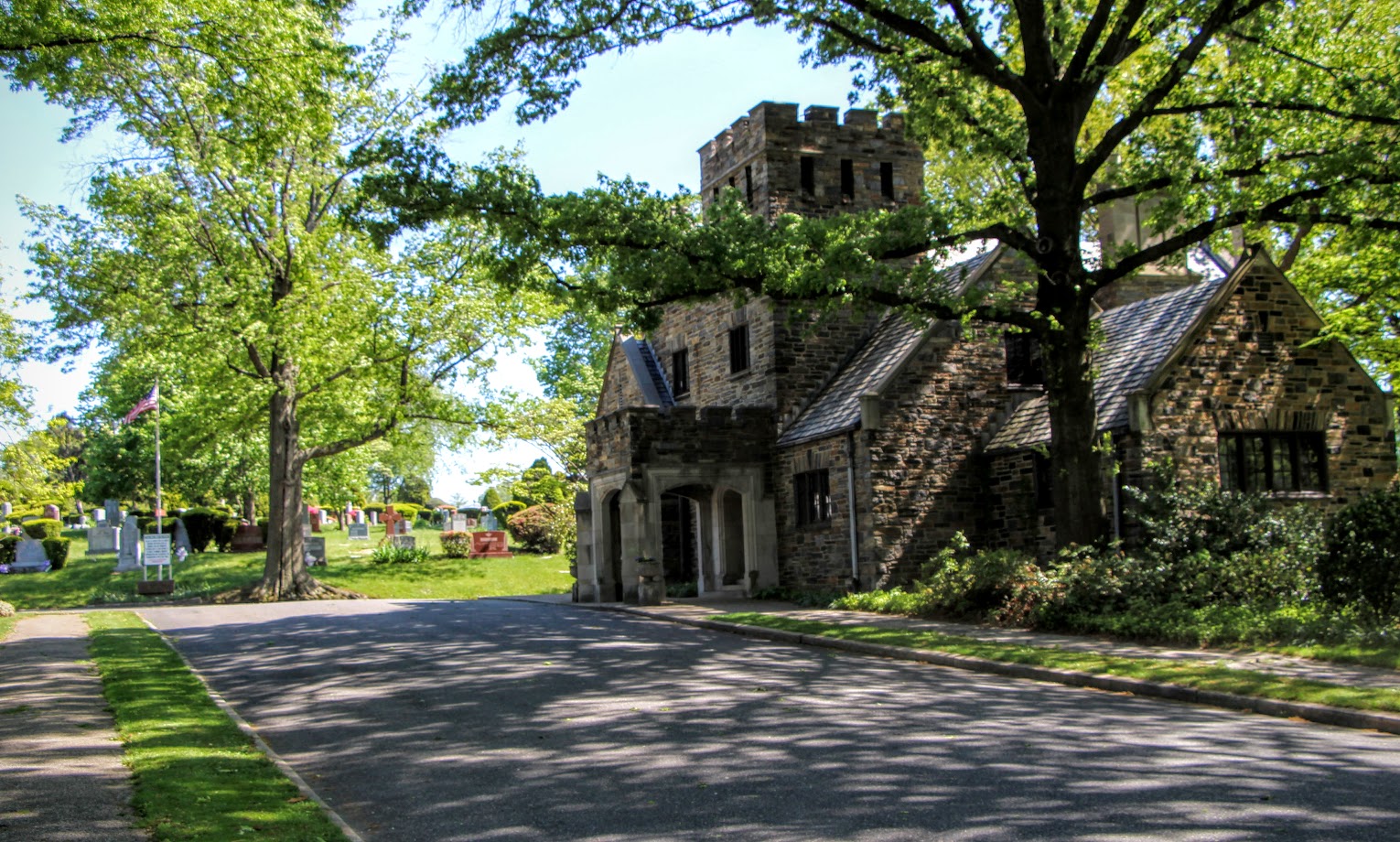 LUTHERAN ALL FAITHS CEMETERY
The massive Lutheran All Faiths Cemetery was created under the guidance of Reverend Dr. F. W. Geissenhainer, who sought to provide a low-cost burial ground accessible to New Yorkers of all walks of life. Hence the non-sectarian nature of the cemetery. Though All Faiths is the final resting place to more than half a million people, there is still plenty of open land available on its grounds, making the cemetery a beautiful place to explore. Of its noteworthy burials are many of the more than 1,000 victims of the little-known General Slocum Paddleboat Disaster of 1904.
Cemetery website