Chandler Bike Path: Biking LA's Metro Orange Line And Chandler Bikeway
First timers interested in cycling LA's Metro Orange Line bike path may justifiably be a little anxious. Am I biking along a railway? On the street? Next to traffic?
To help clear up any confusion, it first helps to know what the Metro Orange Line actually is: namely, an 18-mile bus route stretching between North Hollywood and Chatsworth in the San Fernando Valley. And while a mass transit-accessible roadway teeming with commuter buses might not seem like the most appealing place in Los Angeles to pedal, it actually comes together surprisingly well.
Take a look.
The key to the Orange Line's success lies in the fact that it's completely segregated from rest of LA's city traffic. That's right: a 2-lane bus highway closed off to any other type of vehicle. This is why it's technically considered part of the metro light rail system, and not identified by a route number.
How is this possible, you ask? Well, having at one point been part of both the Southern Pacific Railroad and Pacific Electric lines, the tracks were already in existence for just about the entirety of the 20th century. All that was needed was a little pavement and a $324 million dollar facelift.
Thankfully, part of that 2005 facelift included construction of an accompanying multi-use cycling and pedestrian trail.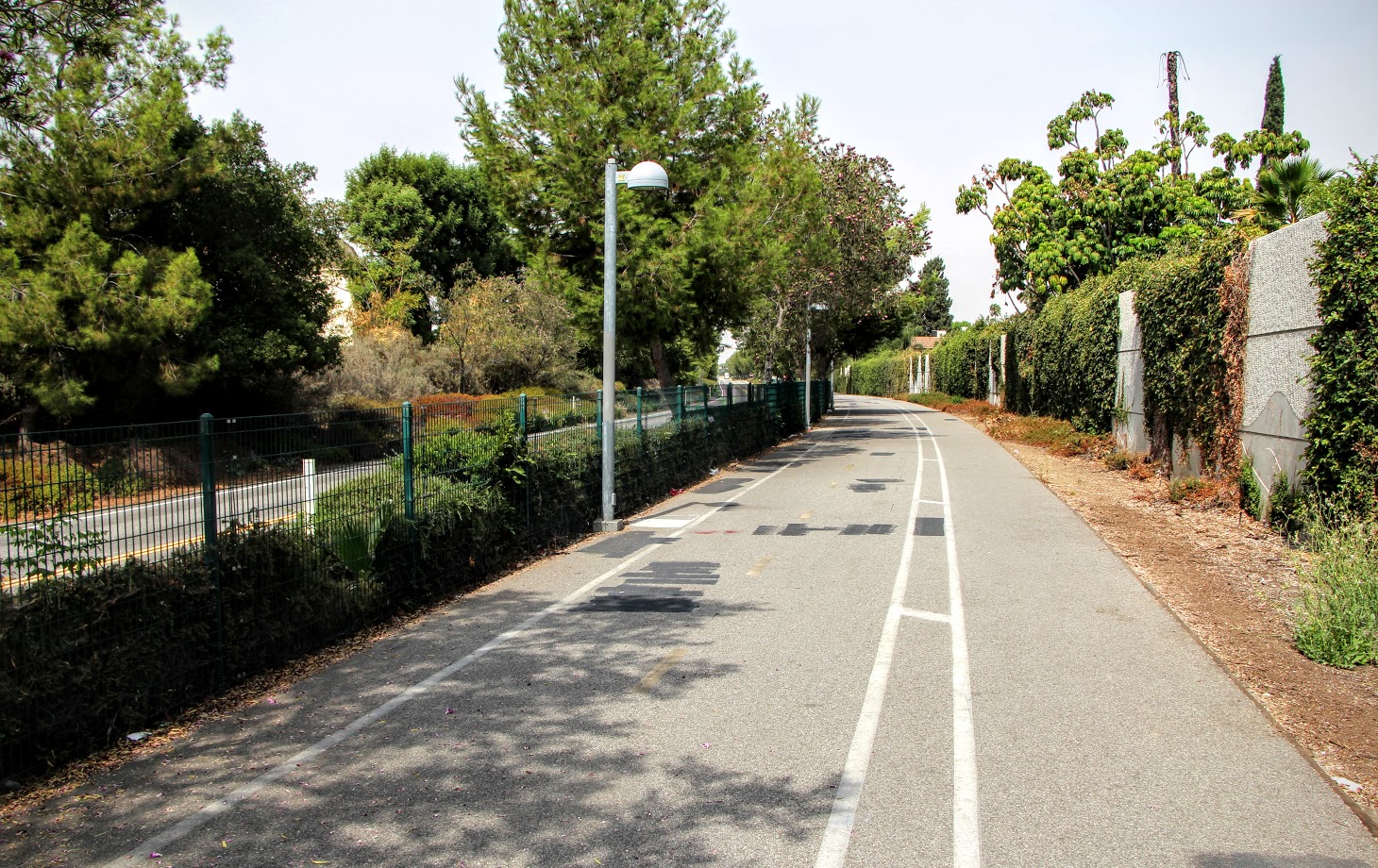 The Metro Orange Line bike path does one thing particularly well: providing cyclists with a safe, traffic-free means of traversing the heart of the San Fernando Valley. Its counterpart, the Chandler Bike Path, continues the ride as far east as Burbank, past a host of street art murals and residential suburban cityscapes. Put them together and that's over 21 miles of urban biking, less than 2.5 miles of which are on-street.
The biggest drawback, of course, are the traffic lights. Since both the Orange Line and Chandler Bike Paths run parallel to city boulevards, cyclists have little choice but to stop at all signals and press the button in order to activate the pedestrian green light on the opposite side. This can be a noticeable inconvenience, especially if you're looking for some sustained cruising.
Considering the fact that the path runs directly past the Sepulveda Basin Park, however, you're not going to find much sympathy from us. Feel free to do as many loops here as your heart desires, then get back to one of the longest bike-friendly corridors the City of Angels has to offer.