Fat Bike Race: An Unforgettable Backyard Pursuit In West Yellowstone
If you thought epic mountain bike racing was reserved for warmer months, think again. Simply put, there's a fat bike race near Yellowstone that is equally inspiring and fear-inducing.
Welcome to Jay P's Backyard Fat Pursuit – a 124-mile winter fat bike race in West Yellowstone. For one fat bike enthusiast (Gus Albuquerque), he sees an opportunity to be part of something special. Whether or not he knew it at the time, this was about the challenge of survival in its most raw and human form.
For starters, his REI gear was still full of tags when he arrived in Idaho Falls. Furthermore, he had been unable to find the right GPS due to his late entrance into the race. As a result, he needed an old-school map to plot out the route. Most importantly, his only experience on a fat bike had been a Spinlister bike rental that lasted a few hours.
Fat Bike Race 101: Preparing For The Elements
As anyone who's biked competitively in snow will tell you, there are two rules all newcomers to the sport will have to pick up in a hurry. The first is that you ride in someone else's tire rut to avoid overheating. The second is that you steer with your knees to avoid wiping out.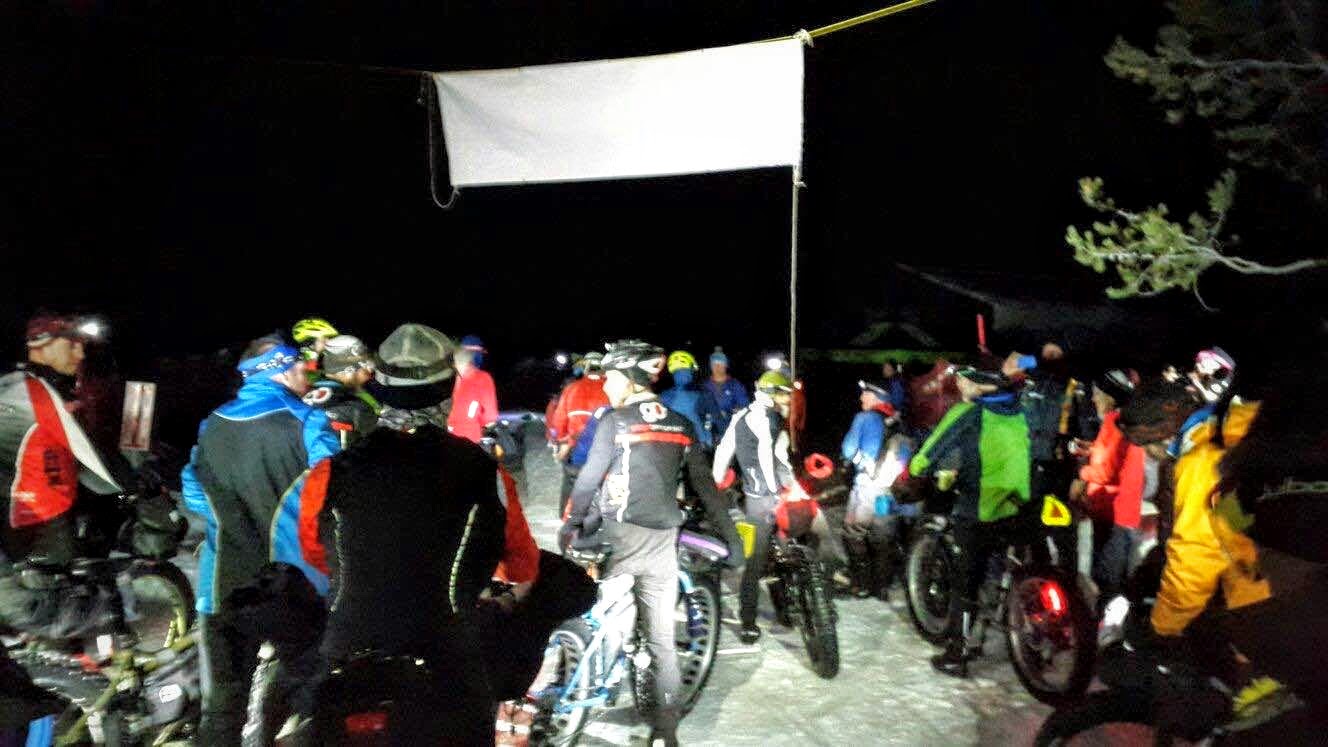 By the time Gus arrived at the first mandatory water-boiling check point, clothing drenched in sweat after struggling to catch up from five powdery falls, it's safe to say those lessons had been learned the hard way. He would spend the next several hours on the verge of dehydration, more pushing than pedaling his bike uphill through snow too soft for even 5 psi of tire pressure.
How slowly 60 miles can pass beneath you. Like all of us left in the confines of our own thoughts for too long, a song began to play on repeat in Gus' subconscious.
I'm on a highway to hell.
It wasn't until the chill of night had fallen that what had started out as a Sisyphean struggle began its transition into something much more profound. At the first aid station 4 climbs below he had contemplated quitting the race entirely, only to be greeted by a warm bed and even warmer volunteers.
An hour nap and several peanut butter sandwiches later he had emerged into the Yellowstone winter a new man, now standing in front of this last grueling ascent with near-frostbitten hands and the memory of that indifferent mountaintop snowplow permanently etched into his cerebrum.
And then it happened. Far from the placidity of a snowy New England commons, high above the timberline where the wind howled and monolithic figures of rock and snow dotted his blurred vision, Gus Albuquerque glimpsed the transcendental.
Fat Bike Race: Gutting It Out For The Finish
To hear him describe what followed, one can't help but be awed by the near superhuman efforts required by such a competition. In an attempt to combat the plummeting core temperatures that accompany a lack of physical exertion, he had opted to plow break-neck down the mountainside, rear tire locked to anchor his descent. Once there, the coldest part of his adventure awaited him – a fervent 30 mile search for that elusive second aid station just as the sun was beginning to illuminate the clouds above the American West.
At one point, he would even be forced to strip to his bare skin in order to change a sweat-drenched layer of clothing.
When all was said and done, Gus would cross the finish line 26 hours after setting off, greeted by hearty embraces, a newfound camaraderie, and a few well deserved beers. He was well behind the lead pack, of course, but that was of no consequence in the wake of an experience like this. After all, he had tested some of the most extreme limits of human endurance, biking himself to near delirium and emerging triumphantly on the other side.
For just about any true adventurer, that's a prize far more valuable than the simplicity of a mere victory ever could be.