Highway 56 Bike Path: A Ride Along San Diego's Ted Williams Parkway
We get it; sometimes you just want to work up a long-distance sweat without a constant barrage of street traffic at your shoulder.
In fact, we're guessing that's probably always the case.
Well say hello to the SR-56 Bike Path, a 10.5 mile trail that parallels the Ted Williams Parkway between I-5 and I-15. You won't find much fanfare surrounding this prolonged stretch of pavement in northern San Diego, however you will find one of the city's most enjoyable rides for cyclists.
Why, you ask? Well for starters, there's the continuity. Broken only a handful of times by traffic crossings like the one at Carmel Valley Rd, the bulk of the trail is gloriously uninterrupted. This makes it as appealing to commuters as it is to fitness buffs.
Speaking of fitness, those tackling the trail heading east will make an ascent of nearly 610 ft by the time all's said and done. Most of that incline is gradual, however there are two notable stretches that will undoubtedly get your calves burning: a sustained climb just before Black Mountain Road and a steep ¼ mile push on Azuaga Street. Just try to ignore the unrestrained glee of those zipping effortlessly by you in the opposite direction.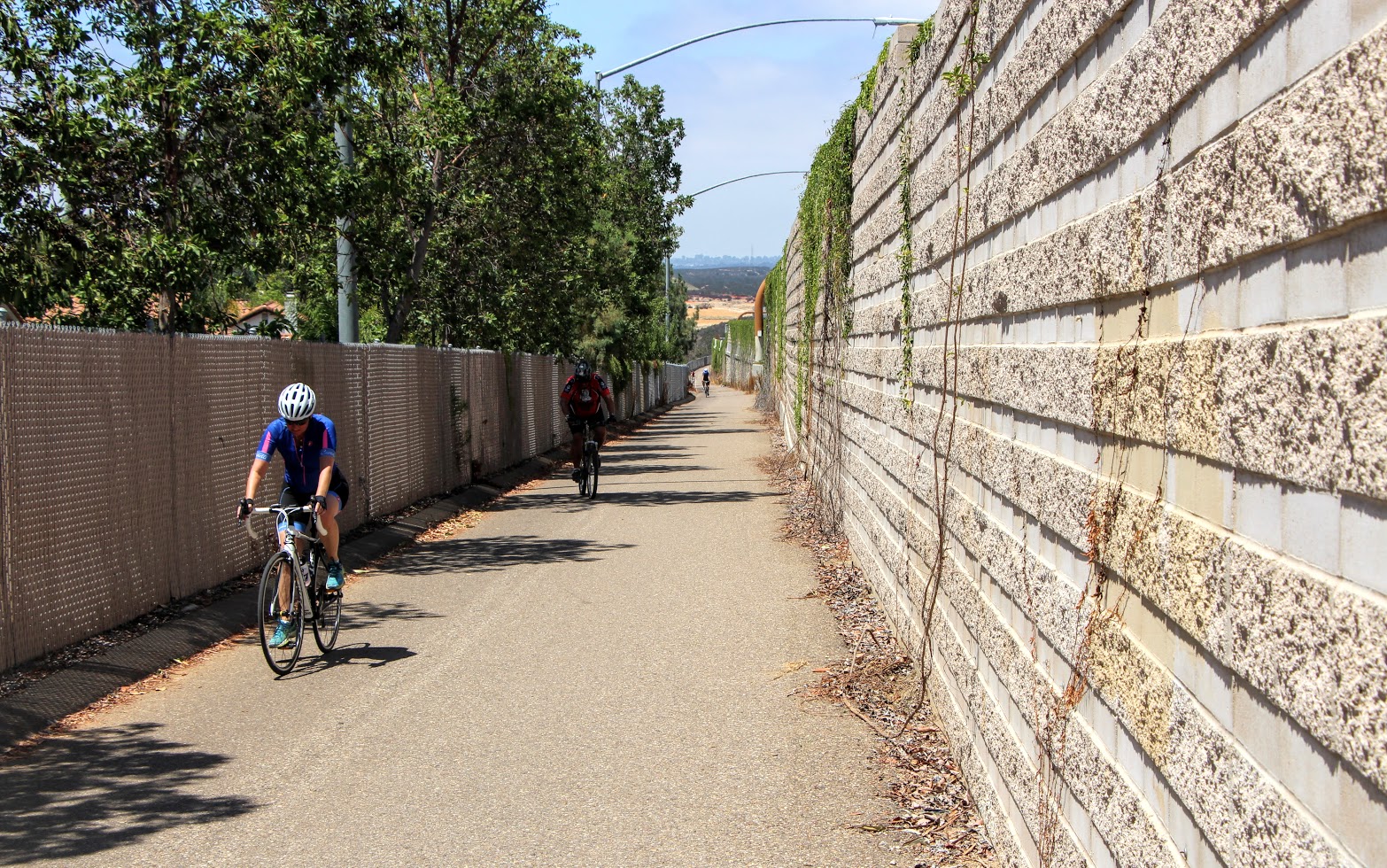 Next up there's the scenery. For traversing inland San Diego, the views from the Highway 56 bike path are surprisingly picturesque. Sure you won't find any sweeping ocean vistas like the ones available along Coronado's Silver Strand, but that doesn't mean there's nothing to see. Sometimes a little elevation and a touch of SoCal shrublands go a long way.
In fact, if there's any complaint to be made here, it's with the proximity to State Route 56 itself. While the noise and pollution aren't particularly problematic, the lack of separation between cyclists and speeding automobiles can be. To put the issue in some context, there have been several instances over the years where out-of-control motorists have veered onto the Highway 56 bike path, crashing either through fences or up onto berms where there's no protection at all. Though these kinds of accidents are rare, they're enough to make you want to keep particularly vigilant in the saddle.
All things considered, this is a great bike ride. If you're in the market for an efficient east-west corridor in northern San Diego, and don't mind a neighboring highway to your north, you'll be hard pressed to find better than the SR-56.