London Bike Lanes: When Cycling Infrastructure Goes Wrong
Before giving a critical analysis, those in charge of doling out judgement are often taught to start and end an evaluation on a positive note. This helps to avoid an atmosphere of excessive negativity, and gives the recipient something encouraging to build on moving forward.
That being the case, allow us to compliment London right out of the gate on the commendable job they've done regarding their plans to construct a cycling "superhighway" throughout the city. Where these lanes exist, they enable relatively safe, fast, and enjoyable transportation on two wheels. Nicely done.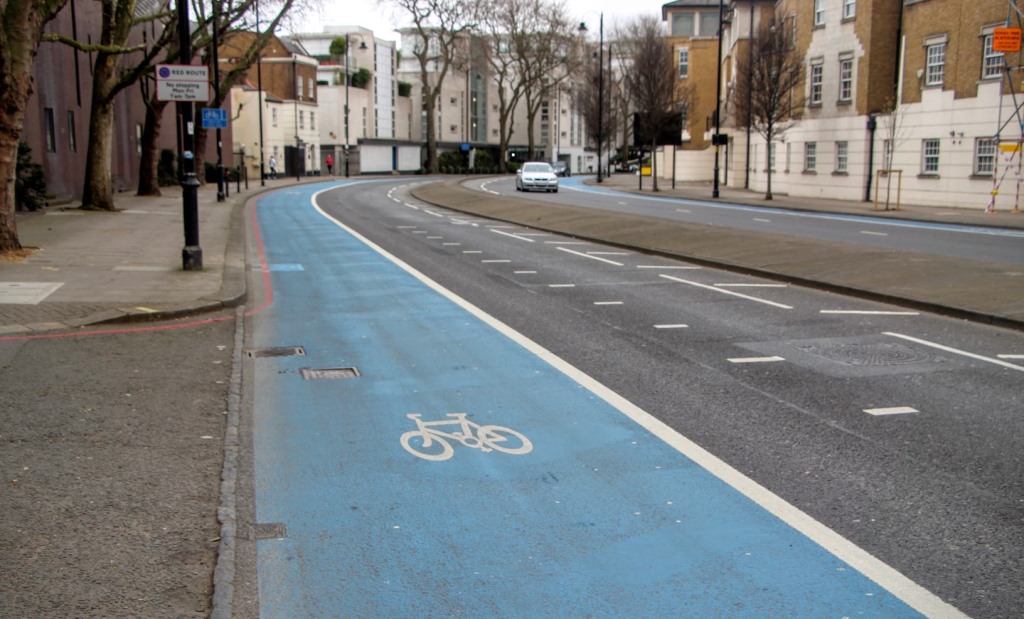 Unfortunately for the 99% of the city not serviced by these blue corridors of convenience, however, the rest of the picture isn't quite so rosy. London, despite being the largest and one of the wealthiest cities in Europe, has struggled mightily to adapt to the 21st-century swell of bikers taking to its city streets – which is unfortunate, given the endless amount of cool places for visitors to rent a bike and go exploring here.
Below are some of the most blatant examples of the city's underwhelming cycling infrastucture, along with a quiet hope for better days ahead.
QUESTIONABLE PLANNING
When examining some of the more unique decisions London has made with regard to cycling, the American idiom "Shoot first, ask questions later" can't help but come to mind. Sure, having bike lanes is generally a good thing, but it always helps to think of them within the context of some larger, well-developed plan.  That way you can avoid things like:
Lanes that come off like an afterthought.
And lanes that force you to ride directly into a stop light.
INADEQUATE SPACING
Cyclists really don't ask for much: on average, between 4-5 feet of width to help navigate safely and relatively comfortably throughout a city. Considering that each biker represents a voluntary reduction in carbon emissions and more vehicular space on the roadways, not to mention the fact that these are internationally standardized dimensions, you'd think that this request wouldn't be considered too unreasonable.
London, however, doesn't seem to agree.
In fact, sometimes it's as if they go out of their way to demonstrate just how little room has been carved out for you here.
LAX LANE ENFORCEMENT
Cities on the front lines of the urban cycling revolution realized long ago that, while bike lanes and bus lanes can be amicable bedfellows when necessary, biking and on-street parking just don't mix. For motorists and city planners in London, this is a mentality that still hasn't quite taken root.
RESTRICTIVE GREENSPACE ACCESS
Do you ever get the feeling that you're just not wanted? If you're a cyclist in London attempting exit the crowded streets and pedal your way through greener pastures, it's a sensation you grow accustomed to pretty quickly.
Occasionally they won't even let you bike in the bike lanes.
POOR ROAD CONDITIONS
There are over 9,000 miles of roadway zigzagging their way across the British capital. While it would be ludicrous to expect any city's public works department to pristinely maintain that amount of asphalt ad infinitum, some of London's streets have been allowed to deteriorate to a surprising degree. This is particularly true with the outer bike/bus lanes, which carry some of the heaviest vehicles on the road with the most regularity.
Just one more thing to watch out for.
Okay, so back to that final compliment. It's important to stress that amid all of these setbacks, the London cycling community continues to grow at an impressive rate. This, in turn, is forcing the city to slowly but surely chip away at its cycling problem, creating a positive feedback loop that will likely only get stronger in the coming years.
Even without world-class London bike lanes, the historic capital of England can still be a pleasure to ride once you get used to the chaos. And like all things in high demand, when you find those rare stretches of freshly-paved cycling glory, you'll pretty much have no choice but appreciate them even more.