Paris Street Food: French Dining Goes Bike Friendly
When it comes to embracing "unrefined" culinary traditions, France has earned a reputation for being about as obstinate as they come. Take doggy bags, for example. In 2016, even after ¾ of the French public responded more-or-less positively to the idea of taking their leftovers home with them, most restaurants still had to be legally forced into participating – this in an effort to reduce the country's staggering amount of annual food waste. It remains to be seen whether or not the practice will take root any time soon, but we're not keeping our fingers crossed.
Thankfully the same cannot be said for the burgeoning Paris street food culture.
Once upon a time the scandalous world of food stands in Paris was limited to the doner kebabs of the less-affluent arrondissements. These days, however, food trucks and takeaway windows have become a staple of the trendy, middle class dining scene, inspiring innovative chefs from la France and abroad to roll up their sleeves in a race to deliver the next trendy, tasty, and relatively inexpensive creation. What's more, these restaurants are no longer relegated to the periphery, generating half-hour lunchtime queues everywhere from Rue Montmartre in the 2nd to Le Marais in the 4th.
Visitors too can reap the benefits of this hands-on approach to Parisian dining, as the tradition lends itself to wallet-friendly pricing and quick service designed to get you in, out, and back to the sightseeing. If, that is, one knows where to look.
Below we've compiled a list of some of our favorite street eats in the City of Light, along with a detailed bike route to help you get the most out of your culinary expedition.
LE CAMION QUI FUME
Chef Kristen Frederick has parleyed the incredible success of her original Parisian food truck into a stand alone restaurant on Rue Montmartre, serving up all the American-style burgers, fries, slaw and onion rings Le Camion Qui Fume became famous for. Gooey, delicious, and vegetarian friendly, you can opt to chow down in the modern 2-story restaurant itself or grab your burger to go (à emporter). Of course, should you be more tempted by the original, just check out their facebook page for a list of dates, times, and locations.
168 Rue Montmartre, 2nd arrondissement website

L'AS DU FALLAFEL
Though we've singled out L'As du Fallafel due to its popularity, this famed corner on Rue des Rosiers is actually a battleground for the best take-away falafel in Paris. On one side of the street there's the reigning champ in terms of reputation, however just opposite you'll find Mi-Va-Mi with its similar formula and quality. Honestly, having had both, it's a tossup. Walk up to either window, order a falafel complete (which includes a generous helping of falafel, salad, eggplant, hummus, and a highly recommended optional spicy sauce tucked inside a warm pita), grab a fork and enjoy.
32-34 Rue des Rosiers, 4th arrondissement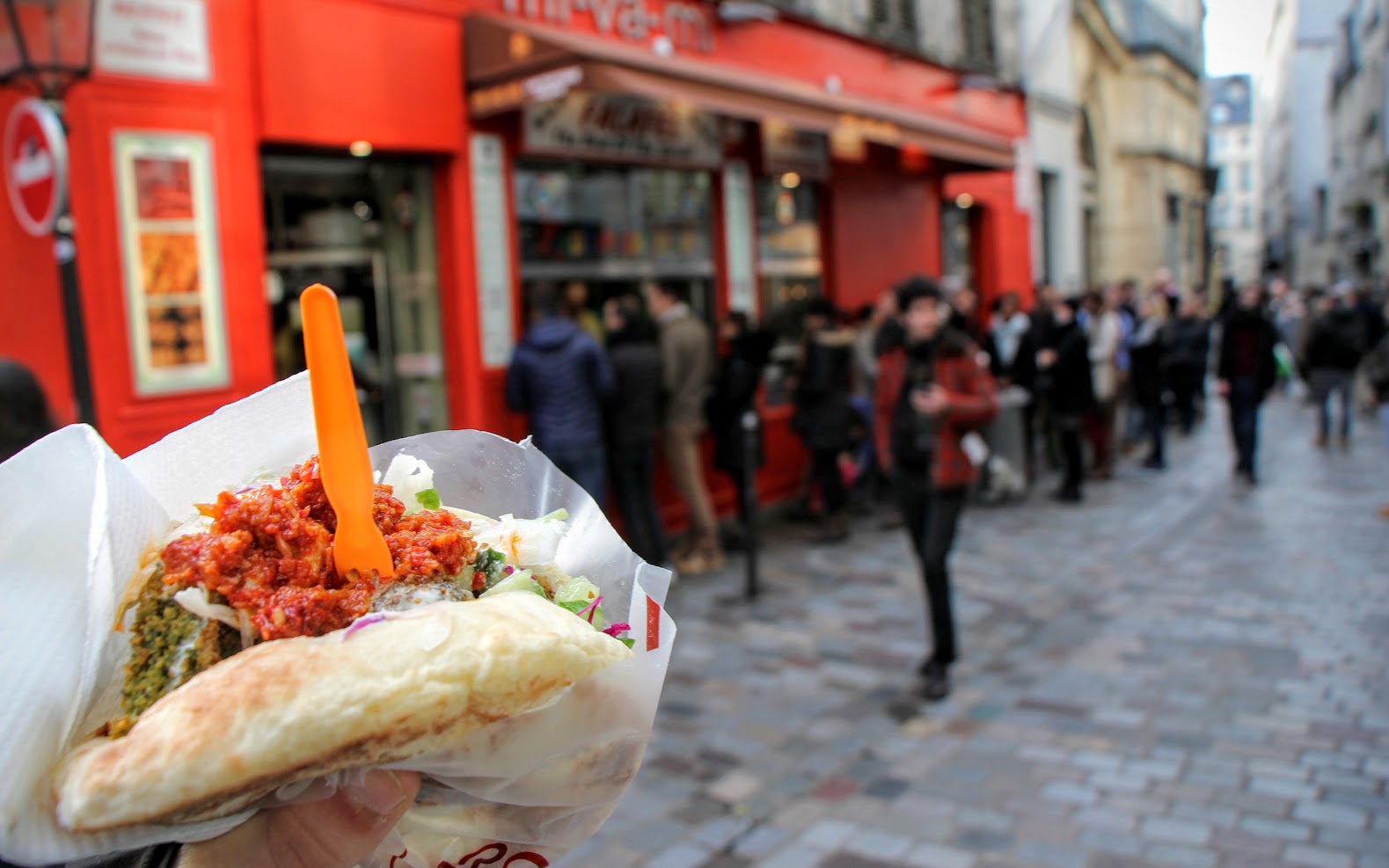 THE SUNKEN CHIP
This quaint, unassuming restaurant just off the 10th arrondissement's Canal Saint Martin is considered by many to be the best Fish and Chips shop in Paris, boasting a fresh catch delivered daily and a series of authentic sides including thick cut fries, mushy peas, and even malt vinegar. Take a seat inside on one of the long wooden benches or, better yet, grab your order to go and make the 2 minute stroll to the banks of the canal for a truly fantastic Parisian dining experience. The gang at The Sunken Chip also operate a food truck, so there's no need to fret if you can't make it to the canal.
39 Rue des Vinaigriers, 10th arrondissement website
CANTINE CALIFORNIA
Another successful food-truck-turned-restaurant, Cantine California on Rue du Turbigo serves up all the favorites of the original plus a few more dine-in options. Choose between a selection of tacos (like the apple and onion-topped carne asada), burgers (like the organic bacon and caramelized onion-topped Dude Burger) and more as you enjoy the clean wood interior, or bag up your order and head over to the nearby Square du Temple. You can also get the heads up on Cantine California's daily food truck operations by visiting their site.
46 rue de Turbigo, 3rd arrondissement website

RESTAURANT BODRUM
Restaurant Bodrum is a callback to the original Paris street food and an very obvious departure from the rest of the hip, centrally located eateries on our list. Situated on a quiet street in the distinctly Parisian 17th arrondissement, you won't find anything resembling a tattoo sleeve or a waxed moustache at this take-away-only doner kebab stand. Instead, you'll be treated to some truly fantastic roasted meat, fries, and a variety of sauces that have attracted a daily queue of loyal patrons for years. If you're in the northwest, treat yourself to a tasty, inexpensive bite of authenticity.
43 Rue des Batignolles, 17th arrondissement