NE Portland: Biking The Hip, Grown-Up Streets Of Northeast Portland
Welcome to NE Portland, where residents invariably settle down once their priorities become equal parts trendy entertainment and family-friendly environment.
The ongoing cool-ification of neighborhoods like Boise and the Alberta Arts District, with their myriad boutiques and à la mode dining options,  has made this urban quarter particularly appealing to professional couples who aren't quite willing to abandon Portland's quirky social scene. Quiet communities combined with a handful of bustling, walkable thoroughfares – what's not to love?
The resulting melange is endearingly characteristic of the Rose City. Unsurprisingly, it's also perfectly adapted for cycling, with well-maintained infrastructure and a plethora of bike-friendly streets to keep your ride as seamless as possible.
To help you explore all the sights and sounds within this distinct collection of neighborhoods, Spinlister has mapped out one of our favorite bike routes in Northeast Portland. Along the way you'll be treated to stunning views over the city, and plenty of opportunities to kick back and appreciate just what good living on the east side of the Willamette is all about.
UNIVERSITY PARK
You won't find a much better road to start off you ride than N Willamette Blvd in University Park. No, it's not just because the street is equipped with wide cycling lanes that take you past the picturesque University of Portland campus. The real treat here is the semicircular loop around the Columbia Distributing port. This might seem like an odd thing to get excited about – until you see the views.
Elevated some 130 feet (40 m) above the river, the panoramic lookout offers an incredible perspective over downtown Portland to the south, as well as the towering peak of Mt. Hood to the east. Try not to be too distracted by the beauty as you're riding or, better yet, hop up onto the grass for a minute to soak it all in.
OVERLOOK
As can rightly be deduced from its name, the Overlook quarter boasts some pretty impressive views of its own, particularly from Overlook Park located on, of all places, Overlook Blvd (we get it, guys).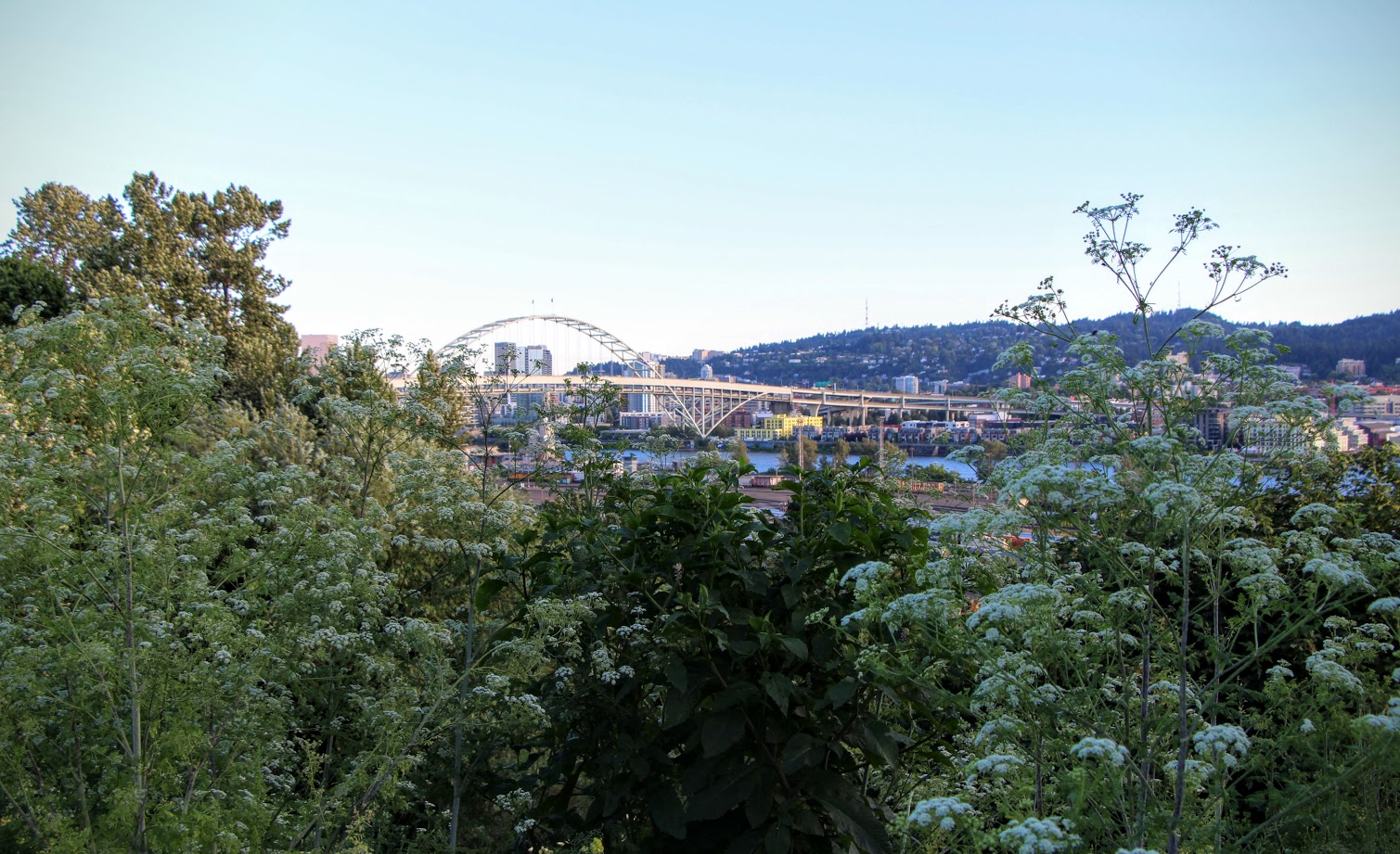 Besides beautiful city vistas, quiet residential streets, and alarmingly repetitive names, this NE Portland neighborhood is also home to some impressive cycling infrastructure. Just take a look at the bridges over N Going Street and I-5, Not only are they great examples of forward thinking urban design, but they make for an undeniably cool addition to your bike ride.
BOISE
What was once a neighborhood rife with urban decay in the 1980's is now one of the hottest markets in Portland, thanks in large part to the controversial gentrification that's so prevalent in this city. Perhaps nowhere is this more evident than Mississippi Avenue, which houses over 40 small businesses in a span of 5 blocks.
If Mississippi is the standard bearer, Williams Ave is taking all the right cues, constituting not only one of Portland's most celebrated dining destinations but one of it's most utilized cycling corridors as well. Park yourself outside at a bar/cafe during evening rush hour and you'll see what we mean.
ALBERTA
If you're looking for the epicenter of east side art in Portland, consider it found. Alberta has made a name for itself with its monthly "Last Thursday" street fair, but the pulse of the neighborhood is palpable just about every day of the year.
To get your bearings straight, simply locate Alberta Ave and start perusing. No matter where you stroll (or ride) between 10th and 31st Aves you'll pass restaurants, cafes, bookstores, art galleries, you name it – all with that distinctive air of unconventionality that's come to define this part of NE Portland.
It's hard to find a more fitting place to end your ride than that.