New Year's Cycling: 17 Bike Rides You Need To Experience in 2017
2017 is here, and with it comes the tantalizing possibility of new bike routes to explore. Whether you're staying close to home this year or traveling across the globe, here are 17 of our favorite rides to help ring in 2017 on the right pedal.
17.) EPPING FOREST, LONDON
Mountain bikers and road cyclists alike will have a field day in this wooded paradise just northeast of London. Unless you have a car and bike rack, you'll probably be loading your ride onto the train in order to get to Epping. Trust us; it's a small price to pay for such a fantastic alternative to the bulk of London's cycling options. Read More.
16.) LAKE MIRAMAR, SAN DIEGO
It's neither the longest nor the most popular trail in San Diego, but what Lake Miramar lacks in name recognition it makes up for in both seclusion and scenery. You'll have to pedal 15 miles northeast of downtown just to get here, but the beauty of the 5 mile trail that circumnavigates the reservoir is more than enough payoff for your efforts. Read More.
15.) ROCKY BUTTE AND MOUNT TABOR, PORTLAND
Portland might best be known for its beards and breweries, but when it comes to cycling it's the cities volcanoes that ought to garner the most attention. Pedal your way up Rocky Butte and you'll be rewarded with arguably the best views in the entire city. Finish off the day with a climb up nearby Mount Tabor and you've got yourself a ride worth blogging about. Read More.
14.) LA COULÉE VERTE, PARIS
There are two green belt trails in Paris, and both are well worth investigating. The most popular by cycling standards is the 13 km route from Montparnasse to the southern commune of Massy, which takes riders past castles and out into the lush French countryside. The repurposed rail-trail from the Vincennes Woods to Place de la Bastille is significantly shorter, but its tunnels make for a one of a kind experience in the City of Light. Read More.
13.) JAMAICA BAY TO ROCKAWAY BEACH, NEW YORK
When you think of the Big Apple, chances are sandy beaches and wildlife refuges aren't the first things that pop into your head – which is exactly why Jamaica Bay in Queens is such a memorable cycling experience. You'll be pedaling over 20 miles from start to finish, so pack plenty of water and get ready to explore the more natural side of New York City. Read More.
12.) PCH TO POINT DUME, SANTA MONICA
If you're a seasoned road cyclist, a ride on California's Pacific Coast Highway is probably high up on your bucket list. Well here's your chance. Stretching 18 miles from Santa Monica to Malibu, this easily accessible stretch of State Route 1 has plenty of traffic, but culminates in one of the most beautiful beaches in Southern California. Read More.
11.) BERLINER MAUERWEG, BERLIN
The 100-mile loop that once separated West Berlin from the rest of East Germany now allows cyclists to pedal their way along a profound piece of 20th century history. Whether you're a Cold War buff or simply enamored by the beautiful East German countryside, the Berliner Mauerweg Trail is a once in a lifetime cycling experience. Read More.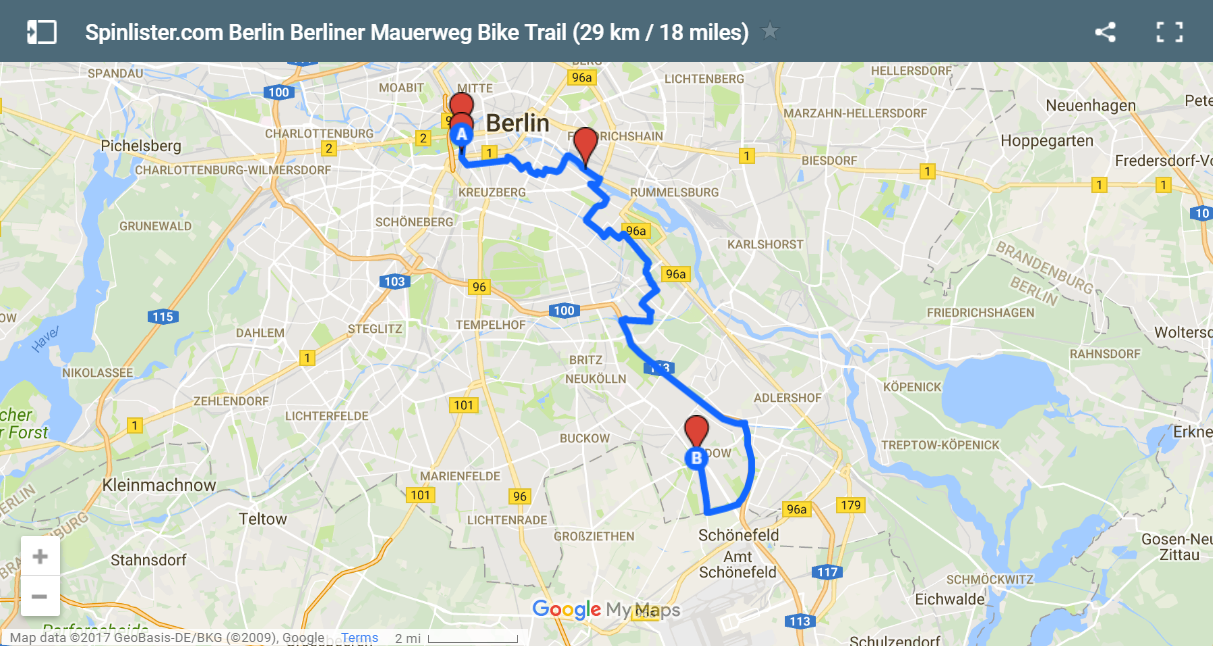 10.) CLEAR CREEK TRAIL, DENVER
The Clear Creek Trail between Denver and Golden is easily one of the most loved bike routes in Colorado. Between its well maintained surface and beautiful creekside scenery, it doesn't take long to figure out why. Get ready for a 700-ft climb on your way towards the Front Range, and cap off your ride with one of Golden's storied microbrews. Read More.
9.) LAKEFRONT TRAIL, CHICAGO
Chicago's Lakefront Trail is one of the most trafficked bike paths in the US – and for good reason. With access to countless city attractions and 18 miles worth of incredible views out over Lake Michigan, it's a tour and a workout all rolled into one. Just be prepared to share the sights with tens of thousands of other daily visitors. Read More.
8.) PASSEIG DE LES AIGÜES, BARCELONA
If you're in the market for gorgeous panoramic views over the Catalan capital, look no further than Barcelona's Passeig de les Aigües. This gorgeous hilltop path winds its way along the Collserola foothills, high above the city. While the trail itself is almost entirely flat, getting there will test your resolve – if you opt out of the funicular, that is. Read More.
7.) C&O CANAL, WASHINGTON DC
In a capital city replete with bike trails, the C&O Canal stands out as much for its history as for its scenic grandeur. In its entirety, the unpaved towpath stretches over 180 miles between Georgetown and Cumberland, MD. However, in a pinch, the 13-mile ride to Great Falls Park makes for an incredible day trip from DC. Read More.
6.) HUDSON RIVER GREENWAY, NEW YORK
It might be hard to imagine, but Manhattan is home to an uninterrupted 11-mile bike path that runs from the George Washington Bridge all the way to Battery Park. The Hudson River Greenway can admittedly get a bit congested, especially during the warmer summer months, but for Big Apple views like this? Well, you'll just have to let them speak for themselves. Read More.
5.) HAWK HILL, SAN FRANCISCO
Anyone can bike across the Golden Gate Bridge. Once you're north of San Francisco, however, the real test of your resolve begins. Tackle the intense climb up Hawk Hill and you'll be rewarded with one of the Bay Area's most memorable views. It won't be easy, but the best ones never are. Read More.
4.) THE ANN AND ROY BUTLER BIKE TRAIL, AUSTIN
Austin isn't just the "weirdest" city in Texas; it's also the most bike friendly. If you want proof, look no further than the 10-mile Ann and Roy Butler Bike Trail that loops around the city center. The path is almost entirely off-road, and features lush parks, a state of the art boardwalk, and gorgeous skyline views. Needless to say, it's a ride you won't want to miss. Read More.
3.) OUDERKERK AAN DE AMSTEL, AMSTERDAM
For all the (well-deserved) hype surrounding its cycling, it turns out one of Amsterdam's best rides isn't in the city at all. Enter Ouderkerk aan de Amstel, a small town just south of the Dutch capital. Known for its pastoral beauty and wide open spaces, it's a refreshing change from the congested bike lanes of the "big" city. Get ready to open up the throttle. Read More.
2.) RICKENBACKER CAUSEWAY, MIAMI
Yes, you read that correctly. Miami. The city with the worst drivers in America has a secret up its sleeve: a surprisingly world-class bike trail running from the Rickenbacker Causeway to Key Biscayne. If gorgeous city views, historic lighthouses and secluded beaches tickle your cycling fancy, put this one on your 2017 list asap. Read More.
1.) PALOS VERDES PENINSULA, LOS ANGELES
Forget what you've heard about biking in Los Angeles. Well, just this once. As opposed to smog and traffic, the Palos Verdes Peninsula donut offers breathtaking Pacific views and all the undulating terrain you could ask for. Get ready for a workout, and 24 of the most enjoyable miles California has to offer. Read More.