Nightlife Barcelona: Biking A Night Out In Old Town
The nightlife in Barcelona is just what you'd expect from a thriving Mediterranean city of over 1.6 million residents: plenty of selection, but manageable enough not to be overwhelming. Spend enough time here and you'll inevitably find your niche, whether that's the colorful plazas and local ambiance of Gracia or the upscale bars, clubs, and restaurants of the beachside Port Olímpic.
If a few weeks of orientation in coastal Spain aren't in the cards, however, you're still in luck, since a bulk of the city's best entertainment can generally be found in and around the narrow streets of Old Town. Here you'll discover all the lively establishments, bustling squares, and arteries of foot traffic you could ask for within an easily navigable 5-kilometer distance. Provided you're doing it responsibly, hopping on your bike rental is by far the most efficient (and fun) way to check them all out in one fell swoop.
To get you out and on your way, Spinlister has put together a list of five of our favorite nightlife zones to check out around Old Town, along with a detailed bike route that will help you stay the course.
LAS RAMBLAS
Touted as one of the world's busiest pedestrian thoroughfares, Las Ramblas is pretty much unavoidable for newcomers to Barcelona. On any given day (or night) here you'll literally walk shoulder to shoulder with thousands of other travelers en route to pick up everything from tapas to groceries to Gaudí keychains.
Before you dismiss the frenzy of mass tourism in search of something more authentic, however, it's worth noting that the atmosphere along this 1.2 km street between Placa de Catalunya and the Mirador de Colom is absolutely electric. Sure the prices might be a little higher, and the food a touch more generic, but sit yourself down for an early meal or happy hour cocktail and you won't be able to avoid the contagion of excitement and good vibes. Plus, since it's surrounded by Old Town, nothing will be too far when it's time to take the festivities elsewhere.
EL BORN
Passeig del Born
Butting up against Parc de la Ciutadella, El Born is your answer to the question, "Where can I find Old Town charm without Barrio Gótico crowds?" Cafes, shops, bars and restaurants still abound here amid the neighborhood's many squares and winding alleys, but all with a slightly more local bent.
To get yourself started off on the right foot, make your way to the beautiful Passeig del Born corridor, which locals will tell you was the site of Medieval jousting matches back in the city's slightly edgier days. Pizza, crepes, pasta, cool bars, outdoor seating, lively atmosphere: Passeig del Born has a little bit of everything, and the entertaining vibes continue just ahead at the Placa de Santa Maria. Consider this a great place to start the evening.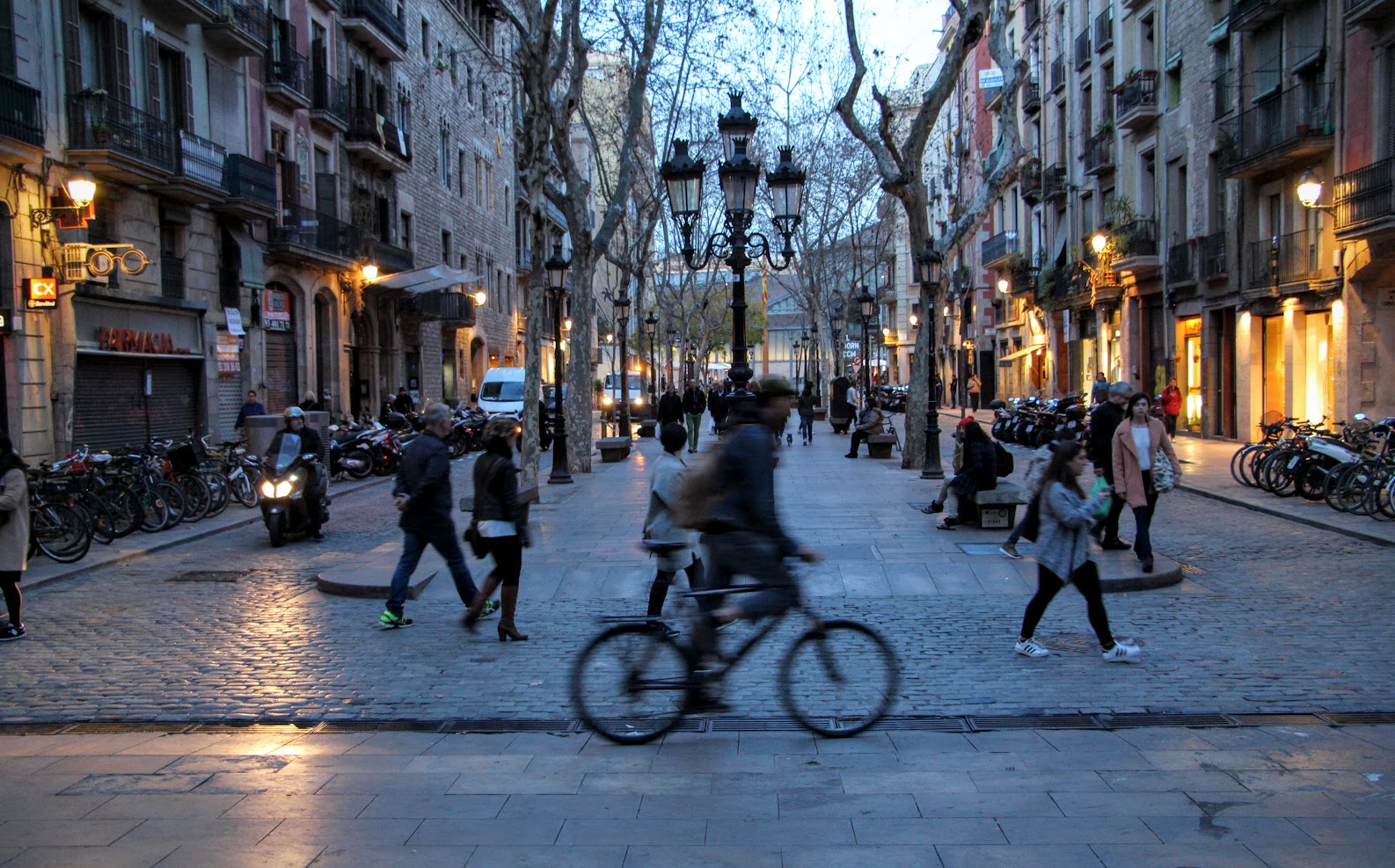 EL POBLE-SEC
Carrer de Blai
The Poble-Sec neighborhood is one of the city's overlooked gems when it comes to nightlife and entertainment. Sitting just across Ave del Parallel from Old Town, it's far removed from the tourist throngs of Las Ramblas which means that locals have a hip place in coastal-central Barcelona to call their own. While secrecy like that is impossible to maintain forever, we'd encourage you to do your best to respect it.
The undisputed place to be here is the pedestrian Carrer de Blai. It's a literal cornucopia of bars, cafes and restaurants pulsing with youthful Spanish energy. Stroll past the myriad outdoor tables buzzing with conversation until you find a spot that piques your interest, or duck off to explore the many side streets that connect to Blai. Authenticity, flavor and fun are the names of the game here, so all you have to do is come and enjoy.
GOTHIC QUARTER
Placa Reial
If you want to justify a night of dining and dancing by claiming you're interested in checking out a bit of Gaudí's early work, head over to the Gothic Quarter's striking Placa Reial. You won't have any trouble finding it since it's connected to Las Ramblas by the 25 meter-long Carrer de Colom, and indeed the street lamps dotting the square were designed by the renowned Catalan architect himself.
Once you've had a few minutes to take in the utter beauty of your surroundings, find an outdoor table at any of the restaurants lining the periphery and prepare to bask in some of Barcelona's most gloriously situated people watching. If you're in the mood for something a little more upbeat, you can also duck into one of Reial's surrounding bar/clubs that consistently draw a sizable crowd mid-week through the weekend.
EL RAVAL
Rambla del Raval
Not such a long time ago, El Raval was considered "off limits" for most Old Town tourists due to the neighborhood's seedy reputation and elevated crime rate. All that began to change, however, with the construction of the Rambla del Raval in 1995: an open, palm-tree lined corridor connecting Carrer de Sant Pau with Carrer de l'Hospital a few blocks north. Since then, the strip has undergone a tangible transformation that's still taking place today, with new hotels, bars, and restaurants popping up almost monthly.
There's still a diverse, multicultural presence here, so you can expect to find kebab joints rubbing shoulders with hip restaurants and cafes. By the end of the week, the Rambla comes alive with packed outdoor tables and tunes drifting from the surrounding nightlife venues. Come take a picture next to Fernando Botero's smiling cat and share in his satisfaction with this excellent addition to Barcelona's nightlife scene.