The Paris Cafe Culture Reimagined
If there's one thing Paris-based expats enjoy, it's the opportunity to knock the snooty French capital down a peg or two by referencing its historically bad coffee and its quaint but outdated cafe culture. For a city with such high culinary standards, the quip usually goes, one is certainly hard pressed to find decent home-roasted arabica beans and a few bars of free wifi. Cue the self-congratulatory chuckle and the obligatory blog post.
Unfortunately for the aspiring coffee critic, however, the world of Parisian cafes in 2016 is a far cry from the brasseries of yesteryear. Yes those traditional brasseries still exist, serving up all the burnt, black, bitter allongés your nostalgic heart desires. Alongside them, however, you'll find that a culture of hip, internet-equipped artisan coffee houses has become a mainstay in the Paris dining world, catering to a growing workforce of young freelancers looking to have their café and drink it, too.
Below are a few of our favorites worth checking out, as well as a suggested bike route to help get you exploring them like a pro.
CAFÉ LOMI
You could make the argument that Café Lomi was the spark that set the revolutionary fire ablaze in the Parisian coffee world. Launched in 2010, they quickly amassed a loyal following thanks to their expert in-house roasting and hand-selected beans fairly purchased from plantations throughout Asia, Africa, and South America. Nowadays, Lomi's product can be found dripping from espresso machines throughout the city, but a trip to their cafe and boutique tucked away in an inconspicuous section of the 18th arrondissement is still a worthy pilgrimage. Paired with delicious food, knowledgeable staff, and an awesome atmosphere, this is world-class artisan coffee culture done right.
3 ter Rue Marcadet, 18th arrondissement website
LES PÈRES POPULAIRES
In the decidedly non-touristy 20th arrondissement you'll come across one of the coolest cafe/bars in Paris – provided, that is, you're not a stickler for haut couture. While other establishments might downplay their wobbly tables or mismatched furniture, Les Pères Populaires proudly wears its idiosyncrasies on its sleeve, winning over the hearts of many a Parisian simply looking for a good natured place to sit down and grab a drink with friends. The coffee itself might be just average, but the room is spacious, the atmosphere is unique, the music is spot on, the crowd is lively, the staff are good natured, the wifi is free, and the prices range from reasonable to incredibly cheap. What more could you ask for?
46 Rue de Buzenval, 20th arrondissement
COUTUME INSTITUUTTI
A cafe befitting its location in Paris' studious Latin Quarter, there may be no better place to hit the books and break out the laptop than the 5th arrondissement's Coutume Instituutti. If its name has you slightly perplexed, that's because it's located inside the Finnish Cultural Institute – and it's not just the name that reflects its heritage. Clean wooden floors, bright windows, plain white walls, and straight-line furniture bring a modern Scandinavian efficiency and airiness to the oldest neighborhood in the city. If you're looking for plentiful food and lively conversation, you'll want to keep checking out our list. However, if you want to pass a productive afternoon sipping high-quality coffee and basking in academic inspiration, look no further.
60 Rue des Écoles, 5th arrondissement
LE COMPTOIR GÉNÉRAL
At first glance, you'd probably say Le Comptoir Général is about as Parisian as a PBJ. If you could even find it, that is. Hidden at the end of an unmarked alley alongside the east bank of the Canal Saint Martin, this legendary bar/cafe/restaurant/club/second-hand-boutique is undoubtedly one of the most distinct venues in Paris. Let yourself be guided by the neon pink arrow atop its front door, down the dingy red carpet of its long, dimly lit hallway, and emerge into either the tiki themed restaurant to the left or the giant cafe/bar at the end. There's bric-a-brac a plenty to be found, including piles of old typewriters tucked into corners and 70's era D-list movie posters adorning the walls. There's even a small outdoor courtyard that resembles a neglected greenhouse. Stop by for a coffee around noon and you might just have this bohemian paradise to yourself.
80 Quai de Jemmapes, 10th arrondissement website
LE BAL CAFÉ
Nestled along a dead-end cobblestone tributary of the mighty Avenue de Clichy, Le Bal Café is everything you want in a neighborhood coffee shop. First and foremost, it's part of the overall "Le Bal" project, which was created in the early 2000's to help breathe new life into the Parisian visual art scene. Dates of upcoming events taking place at the neighboring bookstore and salle d'exposition are even tastefully displayed on the cafe walls. But should your interest lie solely in its gastronomy, Le Bal won't disappoint in that regard either. Its attention to detail extends from the artfully roasted coffee beans to the rotating, seasonal menu and wine pairings. Even the quaint interior is smartly decorated. Stop in for brunch, or just revel a tranquil coffee haven away from the bustle of the 18th arrondissement.
6 Impasse de la Défense, 18th arrondissement website
CAFÉ CRAFT
This sharp addition to the 10th arrondissement's cafe scene has a little something for everyone: quiet location just off the Canal Saint Martin, modern, minimalist interior design, free wifi, an abundance of outlet-equipped workspace, ample goodies to snack on, and bags of Lomi coffee beans being brewed up by the cupload. If you've got work to do, pack your laptop and make yourself at home amidst Craft's resident population of writers and freelance professionals. Otherwise, if the sun's shining, don't shy away from getting your coffee to go and making the most of Paris' second most famous waterway.
24 Rue des Vinaigriers, 10th arrondissement website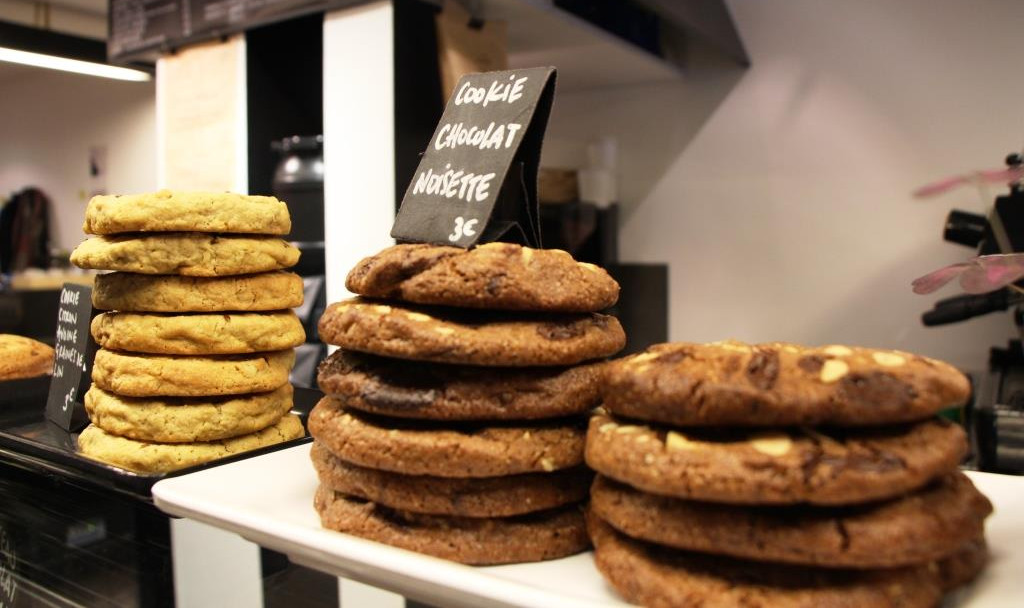 LA RECYCLERIE
La Recyclerie isn't a name you're likely to find on many a Parisian Top 10 list. Why? Well, let's just say its location in the less-affluent northern outskirts of the city is about as far a cry as you can get from the Champs Élysées. Which is a shame, honestly, since this is one of the French capital's hidden gems, and a great reminder that it's often our own prejudices that keep us from experiencing amazing things. Big, bright, colorful and boasting all the right amenities from boxes of Steve Miller and Jimmy Hendrix vinyls to a giant, cooperative urban farm, once you're inside you're more likely to imagine yourself in a repurposed Brooklyn warehouse than an overlooked corner of Paris. Grab a drink, stroll the grounds, enjoy the ambiance, and give yourself a small pat on the back for trying something even many Parisians would consider unique.
83 Boulevard Ornano, 18th arrondissement website