San Francisco Bike 101: Spinlister's Top 10 Ride Routes In San Francisco
San Francisco is the undisputed cycling capital of California, and one of the top 10 places to ride a bike nationwide. But don't take our word for it. With all those cool neighborhoods, grueling climbs, nstunning coastal views (not to mention the iconic Golden Gate Bridge), it definitely doesn't take long for skeptics to become impassioned believers. To help get you off the couch and out exploring on two wheels, Spinlister has put together a collection of 10 of our favorite San Francisco routes for riding bikes. From newbies to enthusiasts, there's something here for everyone to appreciate. All you need to do is rent a bike.
We're pretty sure we can help with that first one, too. If you have not yet explored the Golden Gate City on two wheels, now is the time. Grab your road bike or snag a mountain bike from one of our San Francisco online rentals and find out what you've been missing.
---
1.) THE GOLDEN GATE BRIDGE
It's a San Francisco classic, and quite possibly one of the most memorable bike rides you'll ever experience. Is your curiosity piqued yet? You may not need us to tell you biking the Golden Gate Bridge is an option. But it's important you understand how unmissable this ride is. Between stunning views and the awe-inspiring experience of the bridge itself, there's a reason this route is a classic. And if the ride from San Francisco to Sausalito wears you out, you and your bike can return by ferry. Click the map below or here to find out more.
2.) THE WIGGLE TO GOLDEN GATE PARK
For fans of easy riding, this is as close to flat as you'll find in central SF. It also happens to be one of the most historic trails in the city. Looking for an easy ride? The aptly named Wiggle dodges San Francisco's calf-burning hills on a 5.4-mile journey from Market Street to Golden Gate Park. This flat(ish) route has some interesting history and winds through charming neighborhoods. It also passes memorable sights like the Conservatory of Flowers and the Murphy Windmill. If you're hoping to just go half a day on San Francisco bike maps, this is your route. Click the map below or here to find out more.
---
Ride Bikes in San Francisco & Make Some New Friends: 
See Bikes in San Francisco
---
3.) TWIN PEAKS
Great views and a manageable workout – well, by San Francisco standards, anyway. Check out this scenic, hilltop ride in the heart of the city. This 3.7-mile ride promises a manageable workout… by San Francisco standards, anyway. Score both panoramic city views and natural splendor on this hilltop ride in the heart of the city. Cycle through Glen Canyon Park and Buena Vista Park, stopping at Christmas Tree Point along the way. A lot of tourists choose to drive this route, but let these Twin Peaks pictures be evidence that this one is best savored on two wheels. Click the map below or here to find out more.
4.) BEST OF SAN FRANCISCO
From Union Square to Fisherman's Wharf, this tour puts the city's most famed attractions on full display. Be ready to sweat a little . . . and be ready to set your ego aside if Lombard Street gets the better of you. That 27-degree incline is no joke, and even the fittest cyclists choose to walk it sometimes. Your San Francisco bike rental experience should be fun—not leave you too worn out to enjoy the city. Click the map below or here to find out more.
5.) THE HAWK HILL LOOP
What, did you think biking across the Golden Gate was all there was to it? The real test of your resolve comes once you've reached the other side. The heart-pounding push up to Hawk Hill certainly tests your endurance. But this route also rewards you with some of the most breathtaking coastal views you could hope for. You can tackle the half-loop in 4.6 miles or the full loop in 7.6 miles. Click the map below or here to find out more.
6.) MISSION DISTRICT MURALS
In a city rife with gentrification, the gorgeous Mission District Murals are a reminder of the city's rich, activist, multicultural past. Not only is this bike route an easy 2.3 miles, but its location east of the Twin Peaks even gives you warmer, less foggy weather than the other options. Even though this is the shortest route on the list, you might want to lock down a day-long San Francisco bike rental. Between colorful history to explore by day and exhilarating nightlife, you don't want to be bound by time constraints. Click the map below or here to find out more.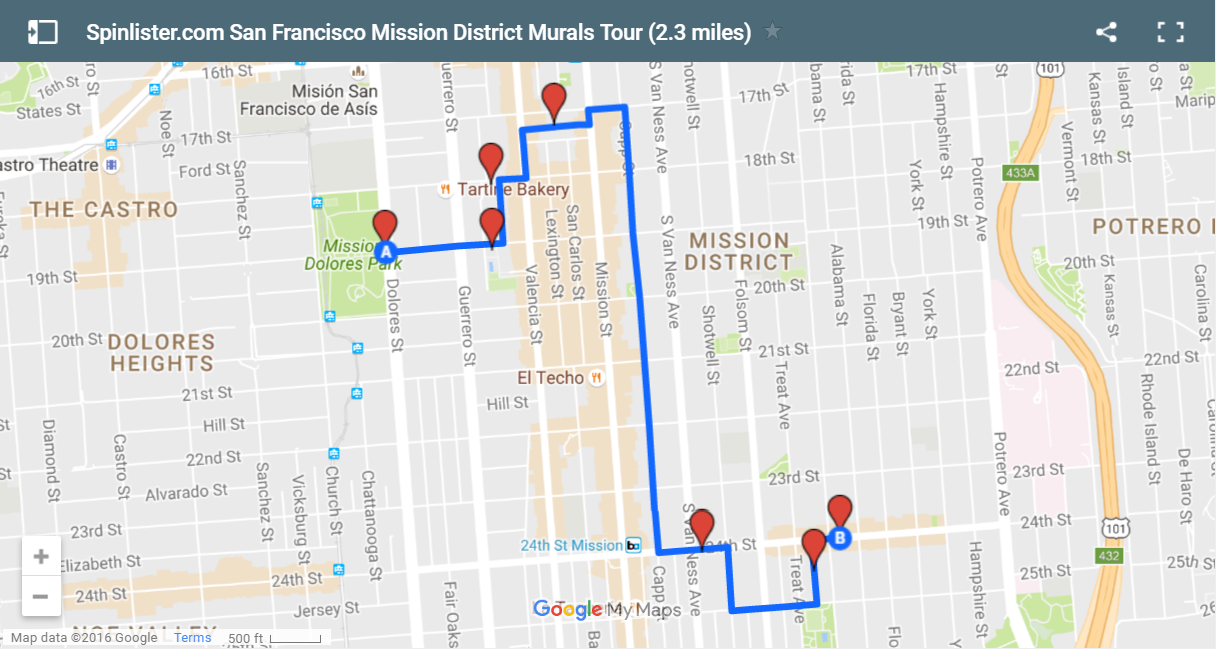 7.) THE GREAT HIGHWAY
Cruising down from the Sutro Baths along San Francisco's coastal Great Highway is a pleasure reserved for those who don't mind a little blowing sand and a hint of traffic. If you're looking for San Francisco bike maps without all the San Francisco hills, this (and The Wiggle) is for you. The Great Highway route runs 5.4 miles along the coast. It's level all the way, but that doesn't necessarily mean it's easy sailing. Blowing sand and occasional traffic might be a turn-off for less experienced road cyclists. If that sounds like you, no worries. You can take the walking/bike path that runs parallel to the road. Click the map below or here to find out more.

8.) SAN BRUNO MOUNTAIN
San Francisco's lonely mountain might not be much to look at from afar, but it delivers where it counts: a challenging ride with incredible views. In fact, after going to the trouble to search San Francisco bike rentals and grab a ride for the day, one glance at San Bruno Mountain might make you think this isn't the best use of your rental time. But trust us, this 11.2-mile loop delivers where it counts: a challenging ride with incredible views. Click the map below or here to find out more.

9.) THE EMBARCADERO
Take a ride on this lively, scenic bayside path and you'll wonder why in the world it was ever covered by a double-decker highway. The three-mile journey travels from South Beach to Fisherman's Wharf. Along the way, enjoy sights like Rincon Park and the Ferry Building. Just keep an eye on the Giants' schedule. This bike ride takes you by AT&T Park, and it can get pretty crowded on game days. Click the map below or here to find out more.

10.) VALENCIA AND MARKET STREETS
When it comes to city exploration, sometimes simple is a good thing. Taking you from the Mission to Downtown San Francisco, these two vibrant streets are about as uncomplicated and bike-friendly as they come. This four-mile, bike-friendly route guides you away from those heart-pounding inclines and crowded attractions. Wide bike lanes, mom-and-pop coffee shops, and urban murals . . . Valencia and Market have all you could want in city cycling. Clearly, you can't go wrong choosing a bike route in San Francisco. This city has so much to offer, from unforgettable views to fascinating history to dazzling personality. Even finding San Francisco bike rentals is easy. Spinlister's bike-share service connects you with listers anywhere in the city. Find a local bike shop or rent from a local cyclist. Click the map below or here to find out more.
Whoever you go to for a rental bike, be sure to ask them for tips on their favorite routes. This list is the best of the best San Francisco bike maps as far as we're concerned, but there's no end to the cycling adventures awaiting you in the Golden City.
If you think an e-bike is right for you, we recommend starting your search with Story Bikes. They offer step-through bikes, road bikes, and commuter bikes at reasonable prices. Plus, for every bike they sell, they give a bike to a student in Zimbabwe.