San Francisco Bike Map: Spinlister's Top 10 Bike Routes In San Francisco
San Francisco is the undisputed cycling capital of California, and one of the top 10 places to ride a bike nationwide. But don't take our word for it. With all those cool neighborhoods, grueling climbs and stunning coastal views, not to mention the iconic Golden Gate Bridge, it definitely doesn't take long for skeptics to become impassioned believers.
To help get you off the couch and out exploring on two wheels, Spinlister has put together a collection of 10 of our favorite San Francisco bike maps. From newbies to spandex spartans, there's something here for everyone to appreciate. All you need is a rental bike and a little motivation.
We're pretty sure we can help with that first one, too.
---
1.) THE GOLDEN GATE BRIDGE
It's a San Francisco classic, and quite possibly one of the most memorable bike rides you'll ever experience. Is your curiosity piqued yet? Click to find out more.

---
---
2.) THE WIGGLE TO GOLDEN GATE PARK
For fans of easy riding, this is as close to flat as you'll find in central SF. It also happens to be one of the most historic trails in the city. Click to find out more.

---

Find the Perfect Ride for Cycling anywhere in San Francisco:
See Bikes in San Francisco
---
3.) TWIN PEAKS
Great views and a manageable workout – well, by San Francisco standards, anyway. Check out this scenic, hilltop ride in the heart of the city. Click to find out more.

4.) BEST OF SAN FRANCISCO
From Union Square to Fisherman's Wharf, this tour puts the city's most famed attractions on full display. Be ready to sweat a little. Click to find out more.

5.) THE HAWK HILL LOOP
What, did you think biking across the Golden Gate was all there was to it? The real test of your resolve comes once you've reached the other side. Click to find out more.

6.) MISSION DISTRICT MURALS
In a city rife with gentrification, the gorgeous Mission District Murals are a reminder of the city's rich, activist, multicultural past. Click to find out more.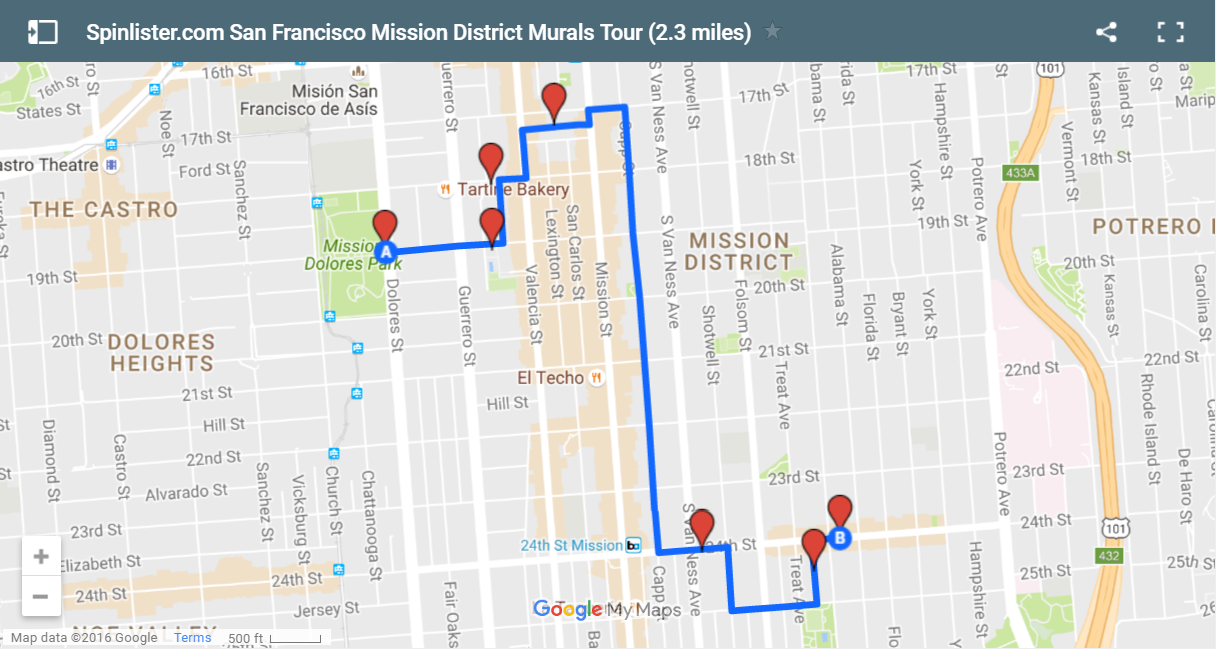 7.) THE GREAT HIGHWAY
Cruising down from the Sutro Baths along San Francisco's coastal Great Highway is a pleasure reserved for those who don't mind a little blowing sand and a hint of traffic. Click to find out more.

8.) SAN BRUNO MOUNTAIN
San Francisco's lonely mountain might not be much to look at from afar, but it delivers where it counts: a challenging ride with incredible views. Click to find out more.

9.) THE EMBARCADERO
Take a ride on this lively, scenic bayside path and you'll wonder why in the world it was ever covered by a double-decker highway. Click to find out more.

10.) VALENCIA AND MARKET STREETS
When it comes to city exploration, sometimes simple is a good thing. Taking you from the Mission to Downtown San Francisco, these two vibrant streets are about as uncomplicated and bike-friendly as they come. Click to find out more.