South Platte River Trail: Denver's Handy, 20-Mile Cycling Thoroughfare
That Denver is a city teeming with bubbling waterways should come as a surprise to no one. This is the mountain west, after all. All that Rocky Mountain snow melt has to go somewhere.
What you might not know, however, is that the city does a particularly good job utilizing these natural channels for recreational purposes. Case in point: the South Platte River Trail, which carries pedestrians and cyclists seamlessly for 20 miles all the way from Thornton in the north to the Englewood Target plaza.
Talk about convenience.
If we're speaking candidly, it's worth noting up front that the going, while safe and smooth, is not necessarily the most scenic. This is particularly true along the northern industrial stretch between downtown Denver and the Sprat Platte Reservoir, aptly referred to as "Commerce City." Here sewage treatment plants and oil refineries mar a landscape typically known for its rugged beauty, giving you the sense that you're pedaling your bike through some sort of Orwellian wasteland.
Have no fear, though, as the farther south you traverse the more agreeable the surroundings become. Just take a look at the bustling LoDo area, where green spaces like Commons Park and the Centennial Gardens offer a lush, floral compliment to the city skyline and pedestrian-friendly Highland Bridge. It's the kind of pit stop you'd be justified in taking a few minutes to dismount your bike and appreciate.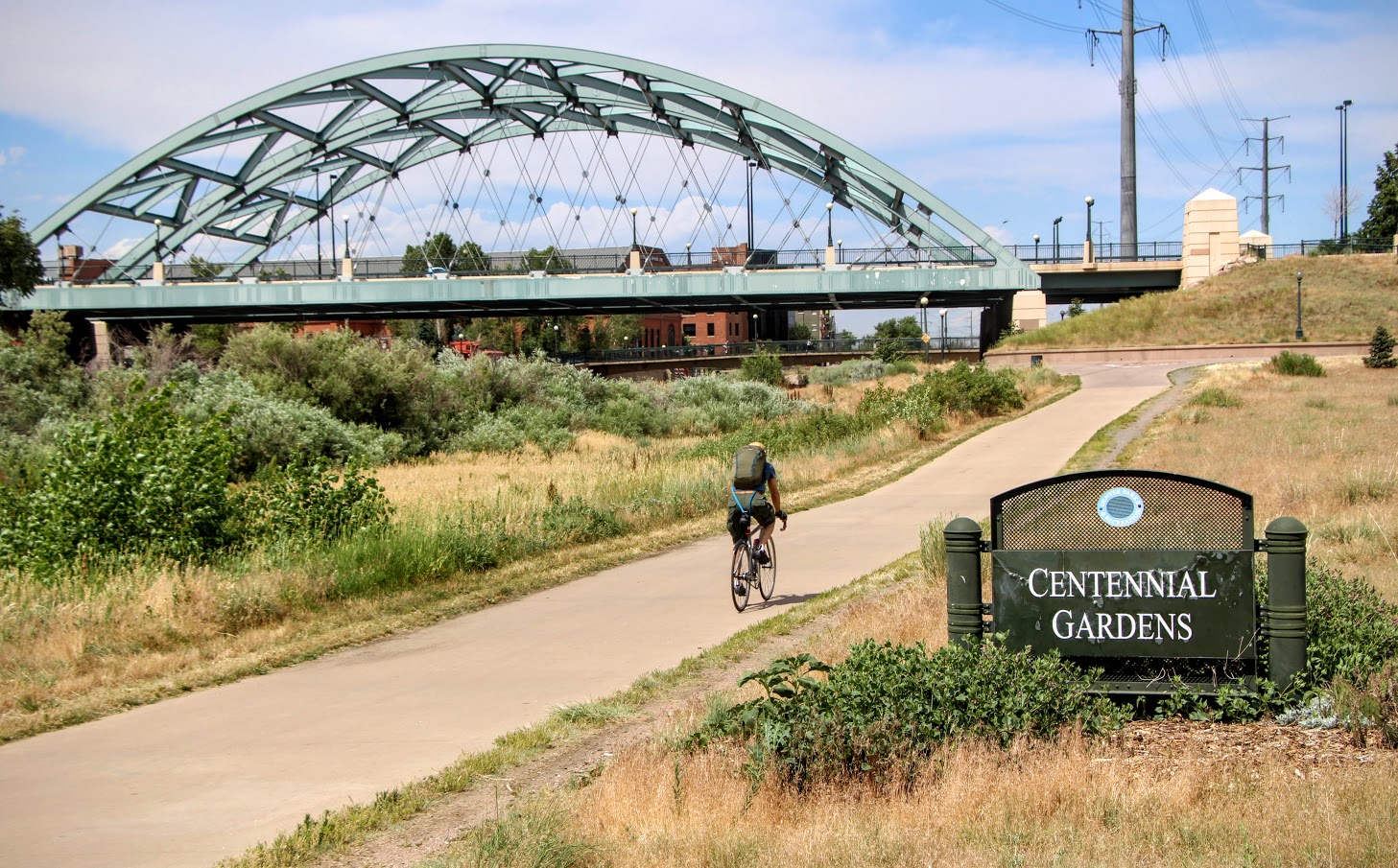 Other highlights along the South Platte River Trail include the Broncos' Mile High Stadium and, once the river veers away from I-25, the Overland Golf Course and Ruby Hill Park.
Perhaps its most appealing feature, however, is the fact that that lengthy and vertically-oriented South Platte River intersects with a host of surrounding tributary trails along its course, meaning you can easily use it to navigate almost anywhere in and around Denver. From north to south, these include the Clear Creek Trail to Golden, the Sand Creek Regional Greenway, the Cherry Creek Trail through Downtown Denver, the Lakewood Gulch Trail, the Sanderson Gulch Trail, the Mary Carter Greenway Trail (which is actually a southerly continuation of the South Platte River Trail), and the Bear Creek Trail to paleontologist-friendly Morrison out west.
Bottom line: if you're looking for nonstop scenic splendor, though there are glimpses of it, overall you may be left slightly wanting. However, for anyone hoping to find a long, well-maintained and usefully situated trail through the heart of the Coloradan capital, consider it found.